Yellow Pages Spider
More details about Yellow Pages Spider

Buy Now!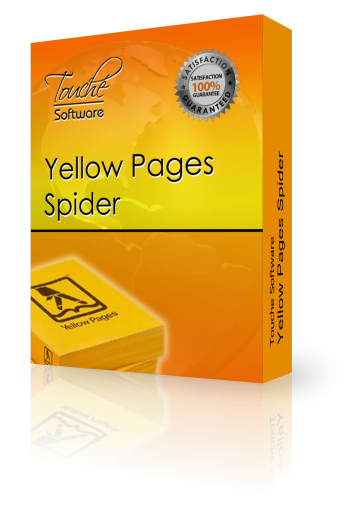 Yellow Pages Spider is a tool that does searches in the most popular "yellow pages" directories and extracts important information like business name, address, phone number and email.
With our application you can create 100% customizable searches in a browser like IE so you can enjoy all the features of each target site. Just enter a category and location, then do a search and when you get the first page of data click the Get Data! button and the rest is magic! This software works fine in more than 15 countries and there are FREE updates every month.
Visit http://www.yellowpagespider.com for more details or continue reading below.
Check our target websites in the section below!
Our tool extracts data from the following websites:
http://www.yellowpages.com in United States (We recommend use a proxy if you live outside USA)
http://www.yellowpages.ca in Canada
http://www.yellowpages.com.au for Australia
http://wwww.yellow.co.nz in New Zealand
http://www.paginegialle.it in Italy
http://www.pagesjaunes.fr in France
http://www.yellowpages-uae.com in Dubai-United Arab Emirates
http://www.gelbeseiten.de in Germany
http://www.pai.pt in Portugal
http://en.detelefoongids.nl/yellow-pages.html in Netherlands
http://yellow.local.ch/en in Switzerland
http://www.goldenpages.ie in Ireland
http://www.yellowpages.com.sg in Singapore
http://www.paginasamarillas.info.ec in Ecuador
http://www.guiamais.com.br in Brazil
http://www.yellow-pages.ph in Philippines
http://en.yell.ru in Russia
http://www.yellowpages.co.in in India
We invite to see the whole list of amazing things that we made especially for you in this product:
Extract Data from websites in seconds with just one click.

The easiest way to get results after you do a search in your favorite Yellow Pages site. Just ONE click in the Get Data! button and done. You get THOUSANDS of leads ready to export to Excel.

Search 100% customizable by user in a browser.

In other tools you can't do and advanced search to get data that match your criteria. With our tool you do a search using all the filters and tools of the original site, and application will take the first page and will extract all data until the last one.

Support Websites Changes.

Internet change every day. Yellow pages sites are not an exception. They change the format several times in the year. Our team will modify our software for FREE fixing any problem so you can continue using your tools forever. That's one of the main differences with other companies that don't support their clients or ask for a maintenance payment.

New Yellow Pages sources.

We are working every month to add other countries. Do you want your own source listed? No problem ask to us and we can discuss an schedule to add it. We have special prices for our clients.

Support Multiple Proxies.

You can use one or several proxies to protect your identity. Application can change randomly the current proxy in each request from a list that you provide. Besides the tool add random delays between requests to simulate a human surfing in a browser.

Export capabilities

After get your leads you can export them to Excel using the CSV format.
Get Trial Version
Do you want to test this tool? Try for free the trial version with all the main features. We just limited the number of results to no more than 30 business and we also disabled any export function. You will receive free updates even for your trial version.
Get Full Version
Are you ready to start saving time? Don't miss this opportunity to get this amazing product paying the lowest price (Only $99). Your will receive a package with the Download Link, 1 user manual and 1 Full License that you can run in 2 different computers.